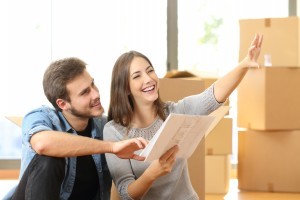 Moving can be a daunting task. There are so many things to keep track of and a lot of feelings come up along the way as you pack up your home and live in chaos for the next few weeks leading up to, and even after, the move. Never fear! There are things you can do to make the moving process go all the more smooth, so whether it's your first time or your fifth you'll look like a downright pro!
Prepare ahead of time
- create a master list of everything that needs to be done before, during, and after the move. Take note of important deadlines and create a master timeline like move out and move in dates, utility cancellations in the old house, utility set up in the new house and when to hand in the keys. Put together an overnight bag with all your personal necessities you'll need on hand during the move and a box full of the everyday house goods you will need on hand your first day in the new house. Decide on which order you are going to pack up your rooms and add these days to your deadline list. You will also want to make a list of any repairs and cleaning that needs to be done before moving day.
Strategize
- Know where everything is going ahead of time. This means a room by room plan prepared before moving day. Label boxes with not only what is inside but what room it will need to go into. You can even take this a step further by color coding boxes by room. If you need to take furniture apart, pack the screws and small bits in a sandwich bag and label what furniture they belong to. If hiring movers, review any requirements they might have for move in day as some will only move boxes and not trash bags.
Clean out
- get rid of as much as possible at least a month before moving. The less there is to move, the easier it will be to pack up with less to carry. Anything shoved to the back of cupboards or closets and long forgotten can go. Do a closet purge and donate unwanted clothes. Hold a yard sale or put valuable items up for sale ahead of time to give yourself plenty of the time to get rid of things before you start packing. Don't add to the stock in your fridge during the last two weeks and consume what you can as moving day approaches. Allow your fridge to defrost the day before the move.
During the move
- stretch wrap any furniture with drawers to hold them in place. Pack a cooler with lunch and/or snack items ahead of time and keep it easily accessible during the move to refuel throughout the day. Clean and prepare the bathroom first stock it with soap, toilet paper, and towels. It will be good to go to take a shower at the end of the moving day! The list of things that need to get done when moving can be overwhelming, but with a master list in hand and some tricks up your sleeve, you can make the process feel a lot less stressful. In fact, you might even enjoy it!